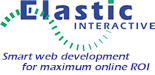 Our custom online & back-office applications have saved our clients over $8 million dollars since 1999.
How Much Can We Save YOU?
Portfolio
Nothing is more important to the success of a website than the viewer's first impression. Crisp, professional, eye-catching design is required to make it on the Internet today. Not only must your site separate itself from the thousands of other sites on the Internet, but well-written "web-style" content must hook the viewer's attention immediately and lead them to your order/contact information. We specialize in delivering top quality web sites at affordable prices.