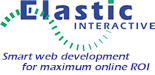 Our custom online & back-office applications have saved our clients over $8 million dollars since 1999.
How Much Can We Save YOU?
About Us
Constant repeat business and the fact that all of our business has been through word of mouth referrals is the most profound statement we can make about the caliber of our custom applications and customer focus. Our clients like what we do and come back for more. And they still like us after the project has launched!
We have over 26 years experience in all the areas that are important to a successful web site— strategy, usability, design, efficient development, search engine submission and ongoing maintenance, as well as marketing of the finished product. We will do as much or as little hand-holding as you need -- from "soup to nuts" (referring to the project timeline, not our clients). The focus is on fast, crisp code and design that works for your business and most importantly, your users.
Our skills and experience run the gamut of necessary web site skills: HTML/ CSS, Google Analytics, (Adobe) Omniture SiteCatalyst, Custom Web Traffic Reporting Systems, Spredfast, Flurry, Urchin, Webalizer, AWStats, Data Analytics and Dashboards, User Interface Design, Information Architecture, Technical & User Requirements, Technical User Guides, Swish (Flash programming), Javascript, Ajax, XML, PHP, mySQL, ecommerce, CRM, CMS, Drupal, and AdWords -- to name a few. Everything we need to give you a compelling website that speaks volumes to your prospects and clients.
Once your site is developed, Elastic Interactive will help you choose a web hosting company. Our founder, Dawn Lodge Golden, was one of the key Sr. management team that helped develop MCI's (now MCI Worldcom) web hosting business in 1996 during the business inception of the internet Gold Rush. She went on to support ANS/AOL clients with their webhosting and internet connection and security before managing Nextel's 1100 page web site as the Sr. Product Mgr. You're in good hands.