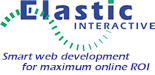 Our custom online & back-office applications have saved our clients over $8 million dollars since 1999.
How Much Can We Save YOU?
Elastic Interactive is a full service web development firm that will increase your business ROI by helping you with your online business strategy from start to finish. We do flash animations, e-commerce, custom database solutions, advertising systems, custom scheduling solutions, reservation systems, online business processing re-engineering, search engine optimization and web site promotion that deliver the best experience possible to your users.

Our job is to be smart, know what works, understand your world, and make sure you succeed.


Web Site Design & Development
We build web sites and online applications guaranteed to give you results and increase your profits. We don't just create a web site -- we improve your business.
Web Traffic and Data Analytics
We use Google Analytics, Omniture SiteCatalyst, and/or build custom web traffic programs to improve your data analytics and web site ROI. We set it up, create executive dashboards, set automated alerts, create custom event tracking, train you to utilize it, and more.
Database Applications & Business Automation
We are a business process re-engineering company that uses computer technology to improve your business bottom line, whether it's a public web site or back-office applications.